Have you ever wondered what it would feel like to be someone touched by Jesus? In the Bible, we see Jesus touching the leper, the paralytic, the sick and complete healing is brought to their body. Not only are their physical abilities restored, but the forgiveness of sins is granted. Jesus knew true healing goes beyond the physical. An African Vision of Hope student named Arthur has experienced the touch of Christ.
Imagine being in Arthur's body, an 11 year old boy with several disabilities. He cannot walk, therefore, has to be carried everywhere he goes, nor can he go to the bathroom on his own. While his siblings are at school and his mom is working, Arthur sits alone at home. Often trapped in his mind, Arthur struggles to see the good in this world and feels hopeless. He sees his friends learning at school, running, dancing, playing games and living life.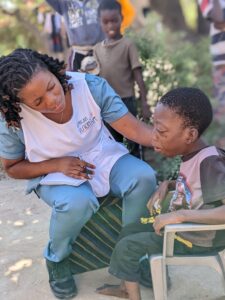 One day, visitors came to Arthur's house, a team of African Vision of Hope Child Protection Officers. Arthur struggled to believe there are people in this world who really wanted to help him. Among the visitors was African Vision of Hope's School Nurse, Prudence. Kneeling beside him, she told Arthur, "God sees you. He has heard you and your family's cries and prayers. He sent His Son Jesus to die for us, and you can experience true hope and freedom in Him. God is answering your prayers right now."
When the African Vision of Hope team left Arthur's home, they immediately took action. They were able to obtain a wheelchair for Arthur and he was overjoyed! His mother was so grateful to God for receiving such a beautiful gift, as this has been one of her prayers for years. The challenges of carrying Arthur everywhere are lifted off her shoulders. Your gifts allowed African Vision of Hope to purchase this chair and change a family's life forever.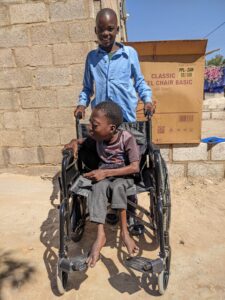 Because of YOU, Arthur's life is changed, now and for eternity! He has seen and experienced the love of Christ through your generous gifts. You can continue touching the lives of those with medical needs through giving. Click the button below to give now!