Empowering youth means empowering a country, and Zambia's youth are ready to take their future into their own hands. This weekend, YOZA (Youths of Zambia Alive), an African Vision of Hope youth group with the motto to "Empower our generation through art and skill," hosted an outreach. The event's goal was to raise awareness about the destructiveness of drug abuse. They partnered with the Drug Enforcement Commission to put on this presentation.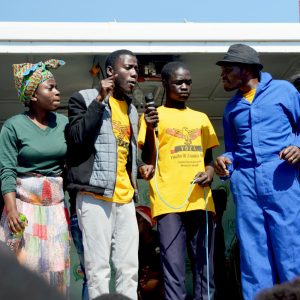 Their performance was held in a compound in Zambia where drug and substance abuse is spreading like wildfire. "The compound has hundreds of youths and children who are not going to school. This is mostly because of poverty caused by their parents abusing drugs and alcohol," says Misheck, YOZA's founder and leader. YOZA's goal this weekend was to open the community's eyes to the harm they are causing themselves and others by performing poems, dances, and skits. The event drew a crowd and certainly made an impact on all who watched.  Misheck is looking forward to expanding YOZA's reach throughout Zambia.
What started as a small after-school college club has now become a force in empowering Zambia's youth and raising awareness on issues such as HIV/AIDS, poverty, and child labor.  Misheck and his group are proving to their country that youth can be the builders of their future. They are ready to be the next generation of Zambia's leaders. "Thank you African Vision of Hope for the love and support you have given us as we make a change in our communities here in Zambia."
Without the support of donors, Misheck's goals would never have been imagined. Thank you to those who give – you are creating a ripple that will make waves of change in Zambia.