In Zambia, much like everywhere else in the world, the definition of "women's work" is always changing and rarely fits in a simple mold. In many countries, jobs that are perceived to be out of reach by women are being filled by more and more females every day. Still, in Zambia, many women are trapped by poverty and tradition in "jobs" that they did not choose. So, what does "women's work" look like in Zambia, what are the issues, and how can you help?
Heads of the Household – In many Zambian families, the father is not present and/or has multiple wives/families that he is responsible for and is, therefore, rarely around, leaving daily survival activities and economic responsibility solely to the woman. Many Zambian women spend most of their days taking long trips to the community well to fetch water, completing the house chores, caring for the children, earning a living to keep a roof over their family's head, and are responsible for the moral and spiritual development of her children as well as their education. When their parents die, the female children tend to inherit these responsibilities, and the cycle continues.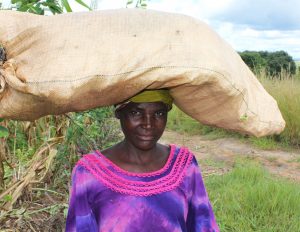 Farmers – The majority of Zambian farmers are female. They work endless hours tilling, planting, weeding, maintaining, and harvesting their land so they can use their yields to feed their family year-round. Most farmers in Zambia still use oxen to till their fields and plant seeds by hand, making it extremely hard work. Their families survive off of the crops they grow, and during times of drought where most crops either under produce or do not produce at all, there is great suffering.
Called to Something More – Leah felt a calling from God to serve the people of Zambia but had no possible way of affording the fees to pursue higher education. An African Vision of Hope scholarship allowed Leah to earn a degree in Theology. She is a pastor's wife and saw great value in becoming knowledgeable about the Bible and scripture. "For a pastor to be effective, he needs a woman by his side who has knowledge and understanding of the requirements of a ministry. I know that God has called me to ministry and I have started a children's ministry, but I needed education to be able to teach the truth of God's word." Hundreds of children and families have learned about God's love through Leah's children's ministry.
Ministers, Scientists, Engineers, Doctor, Accountants, Seamstresses… – Zambian women are also being empowered to enter growing fields such as engineering, medicine, finance, business, science and more. African Vision of Hope will continue to be there encouraging, equipping and empowering them, and offering scholarships to aid in reaching their goals.
A woman's work is never done. You can make sure Zambian women and girls have the opportunity to show their country and the world that "women's work" is anything they are called to do to create a better world for them and for future generations.
[button style="btn-primary btn-lg" type="link" target="false" title="provide college scholarships to waiting students" link="/giving/give/" linkrel=""]