Ten years ago, Joseph never would have believed that his dreams of becoming a lawyer were within reach. His parents both died when he was young. "We did not just lose our parents, but also, all of the property and possessions they had. My siblings and I were divided up and sent to live with different families."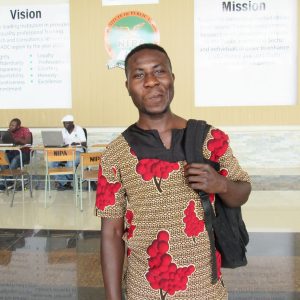 Joseph has not seen many of his siblings since that time. He was sent to an aunt, who paid for him to attend school until 7th grade. She was unable to financially care for him at that point, and he was then sent to live with an uncle. "I felt like a nomad," Joseph remembers. His uncle was only able to pay for a small amount of Joseph's schooling and he was forced to drop out. "I felt like my dreams were shut. One day, while my uncle was at church, he heard about a free school. I did not believe such schools existed in Zambia until he took me to the school and enrolled me. I was accepted into school and into the boarding house. This school is changing lives for challenged youth just like me."
Joseph was among the first class to graduate from African Vision of Hope School in 2012. After graduation, he started college and worked towards earning his law degree. Joseph will proudly graduate with his degree at the end of this September, 2018. He plans on continuing his education to obtain his legal practicing license.
"A special thanks goes to African Vision of Hope, my sponsors, for the immeasurable love and financial support through this long journey. God bless you."
Through an African Vision of Hope college scholarship provided by generous donors, Joseph is becoming the first person in his family with a college degree. Joseph will be able to make a positive impact on his country and be an example to fellow orphans by showing them that it doesn't matter where you came from, only where you are going. There are hundreds of students just like Joseph who are waiting for someone to give them a helping hand and say "yes" to their college dreams. That person can be you.
[button style="btn-primary btn-lg" type="link" target="false" title="give towards higher education" link="/giving/hopelegacy/" linkrel=""]