When you look at John's beaming smile and joyful demeanor, you would never get the impression that just a few short months ago he was trapped in child slavery, struggling to survive.
Before this year, John had never been to school. He grew up living in the village with his mother, his father running off before John was born. His mother struggled to feed him and his 9 siblings and keep a roof over their heads. Ever since he was a child John worked in fields and in the streets to help ease her burden.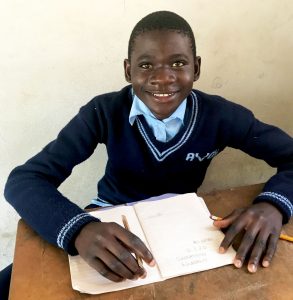 When John was 11 years old, he left the village and came to the compound to visit a relative in hopes that they would offer to help his mother and their family. Instead, they kept him as a slave, refusing to let him leave and return home to the village.  A few years later, a Good Samaritan saw how horribly John was being mistreated and brought him to African Vision of Hope School in Kabulonga, Zambia. He was given a bed in the boy's dormitory and a place in a classroom. Even though he is 13 years old, he started school in the first grade. He does not fit the bill of what a traditional first grader looks like, and is heads taller than his fellow classmates, but, from the grin on his face you can tell he doesn't seem to mind. No matter their age, children are finding a place in African Vision of Hope classrooms.
"I love this school! I am learning to read and write, and for the first time, I have a real bed to sleep in. I cannot believe that I get to go to school. My prayers have been answered!
Incredible people like you have made it possible for children like John to be rescued from slavery and given the opportunity to be students. John is blessed because he has sponsors who write to him and encourage him to continue working hard in school and pursuing his dreams.
There are hundreds of African Vision of Hope students waiting for a sponsor to choose them and become part of their journey. Will you say "yes" to a child living in extreme poverty?
[button style="btn-primary btn-lg" type="link" target="false" title="Sponsor a waiting child today" link="/donation-category/sponsorship/child-sponsorship/" linkrel=""]