One group of Zambians who is suffering a little less than the rest during this time of drought is the street kids. Drought is causing many families across Zambia to panic and try to ready themselves for the famine and starvation to come, but kids living in the streets are used to this mindset. Plus, rains are a street kid's enemy. It makes it hard to sleep, and also brings disease. "It is during the rainy season that a lot of us street kids die," says Francis, a 17-year-old boy living on the streets in a compound in Zambia. Why do kids end up living in the streets, and what is it like? Hear it from Francis.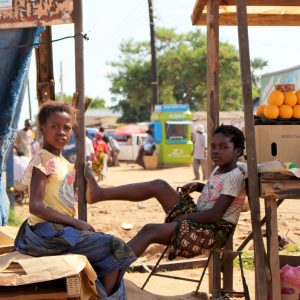 "My mother and father are both dead from AIDS, so I am being raised by my older sisters who are prostitutes. They are rarely able to provide food or shelter, so I find that living on the streets is better. I have been homeless since I was 11 years old. Life in the streets is bad. It makes you feel and act like an animal. Not everyone here deserves to be here. Some were born here, some run away from home and end up here, and others come here because they want to start using drugs. Lusaka (Zambia's capital city) has the highest number of street kids like me because it is near the city which means we can find money. Girls are the ones who suffer the most on the streets. For them to find money they sell their bodies to old men or fellow street kids. This is one of the reasons that HIV and AIDS are a big problem here. All of us are in danger of being killed because of drugs and violence. We sniff glue, and when we do we forget about our problems. We feel as though all is well and it removes our fear. When we are cold, it makes us feel warm.  It is hard for us to make an honest living because people do not trust us. Some mothers dump their children in the streets and the children are left to figure out how to survive on their own.
I don't want to steal to survive. I have goals I want to achieve. I want to learn a trade so I can provide for myself and other street kids. Most kids on the streets want to have a better life but they don't know where to start."
Many African Vision of Hope students share similar stories. This is one of the reasons the Girls House of Hope Home was built, to rescue girls from the streets from resorting to desperation to survive. By supporting African Vision of Hope, you are rescuing kids from the streets and putting them in a classroom.
[button style="btn-primary btn-lg" type="link" target="false" title="Give where it is most needed" link="/giving/give/" linkrel=""]