Meet Kennedy Hakobwa – also known as Abusa (pastor), father, and African Vision of Hope Zambian Program Director.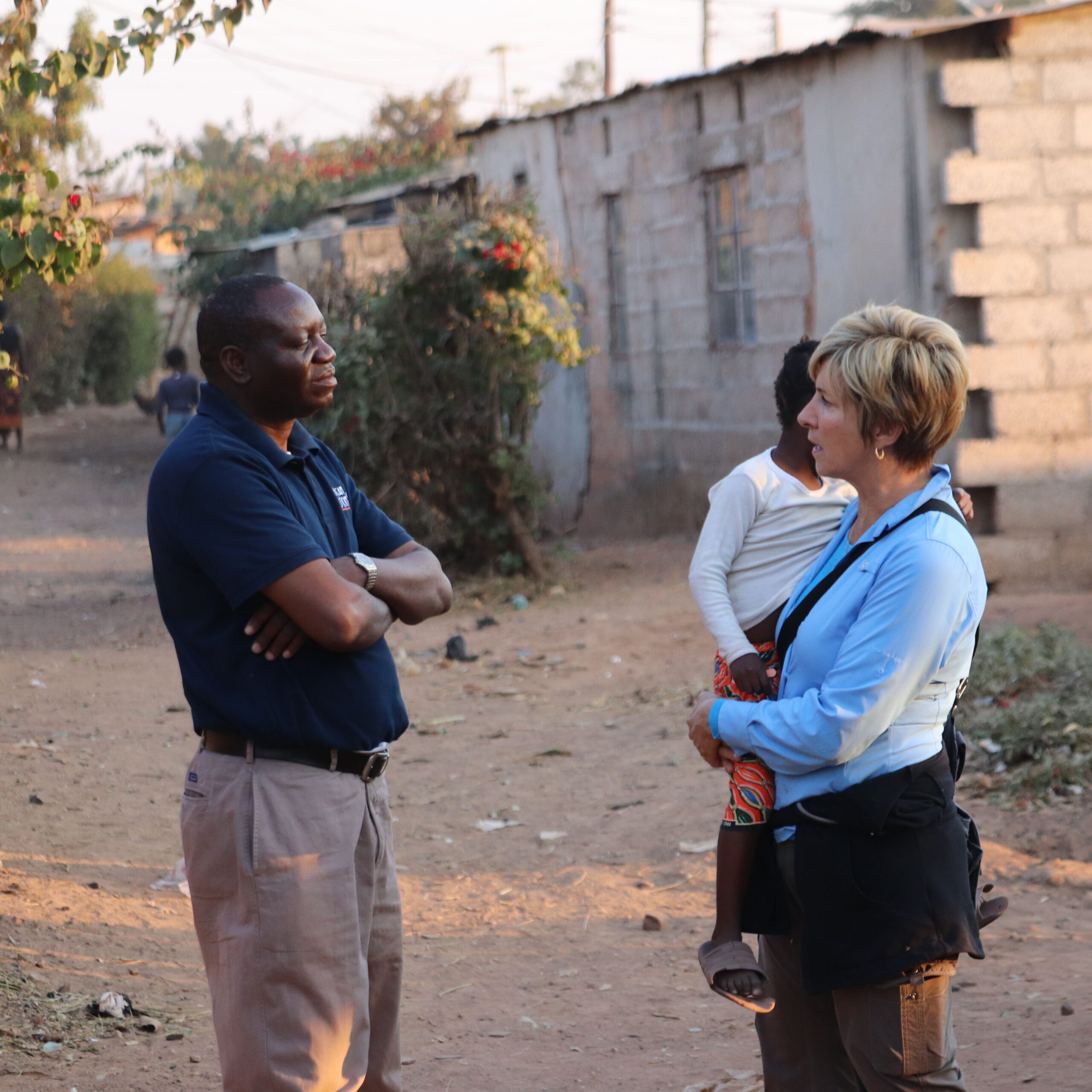 (Pictured: Kennedy with Judi Bertels, CEO, in a Zambian compound.)
From sun up to sundown, you can find Kennedy running the Zambian Head Office, overseeing all 6 African Vision of Hope campuses, caring for street children (shown above), working alongside our USA team,  ministering to our students, and showing them what the love of God looks like in action. If you walk into his home on any given day, you are sure to find African Vision of Hope students, graduates, sponsored college students (or any combination of the three) in need of a roof over their head and a meal in their stomach.
Growing up, Kennedy and his family of 6 lived in a typical Zambian village. His parents were farmers, and life was a constant struggle to survive from one day to the next. Kennedy was able to go to school, but never owned a pair of shoes until he was a teenager. Before and after class, Kennedy would work in the fields, herding cattle barefooted. He would encounter snakes, poisonous insects, and dangerous wildlife, but God protected him through his childhood.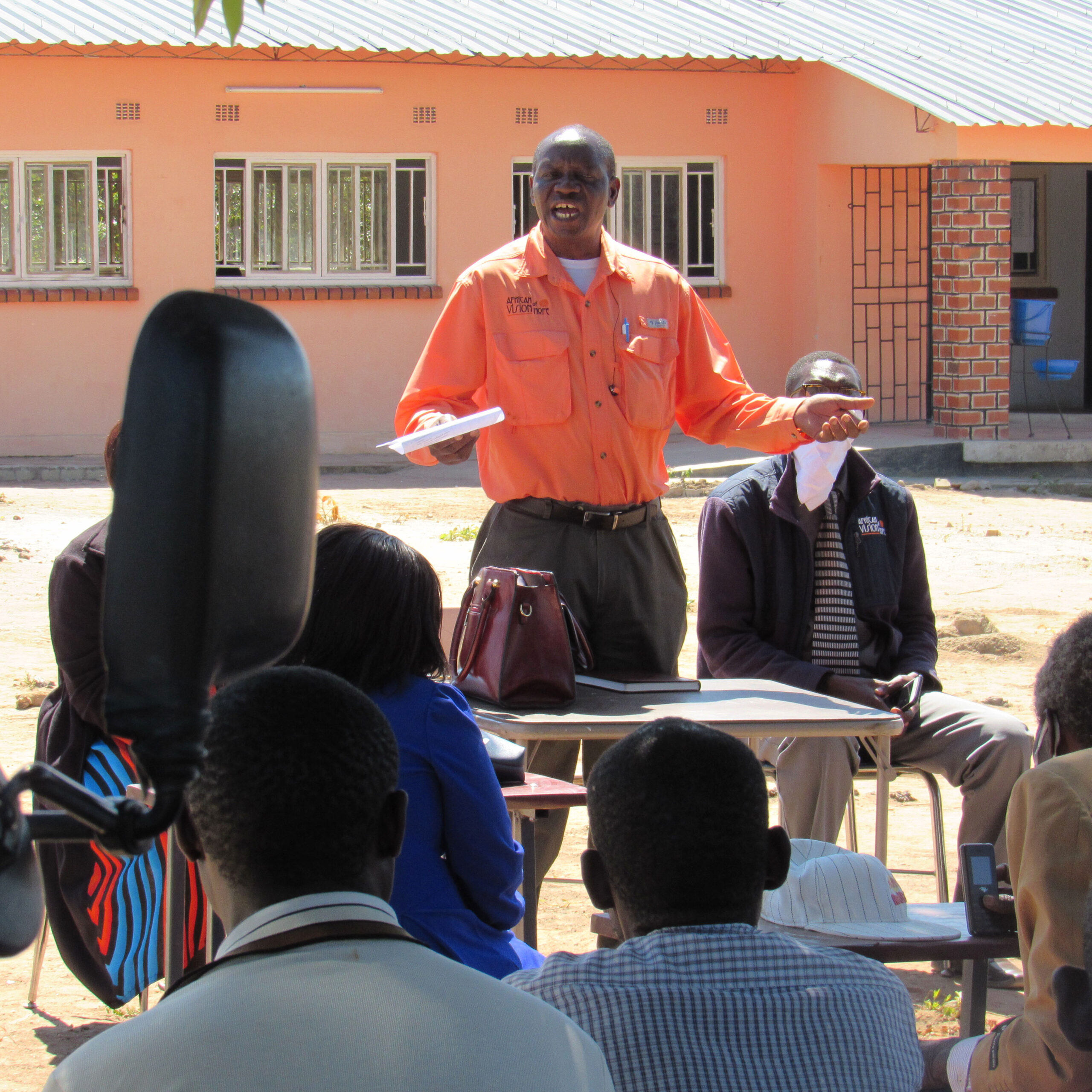 (Pictured: Kennedy hosting a parent-teacher conference at our school in Kasama, Zambia.)
By the grace of God, Kennedy was able to attend college and earned his degree in Aircraft Mechanics. He and his wife, Euphresia, have four children, all of whom have graduated from African Vision of Hope School. Their daughter, Memory, is a college sponsorship recipient and teaches at African Vision of Hope School in Kafue.
In 2011, after working in the public sector for many years, Kennedy felt the call to ministry. He quit his job, began attending Seminary, and he learned he was being sponsored by a ministry called African Vision of Hope. This lifted an enormous burden for his family and allowed him to graduate with his degree in Theology. In 2013, Kennedy became an official African Vision of Hope staff member as a Spiritual Guidance Counselor and "foster father" for the students living in the boarding home.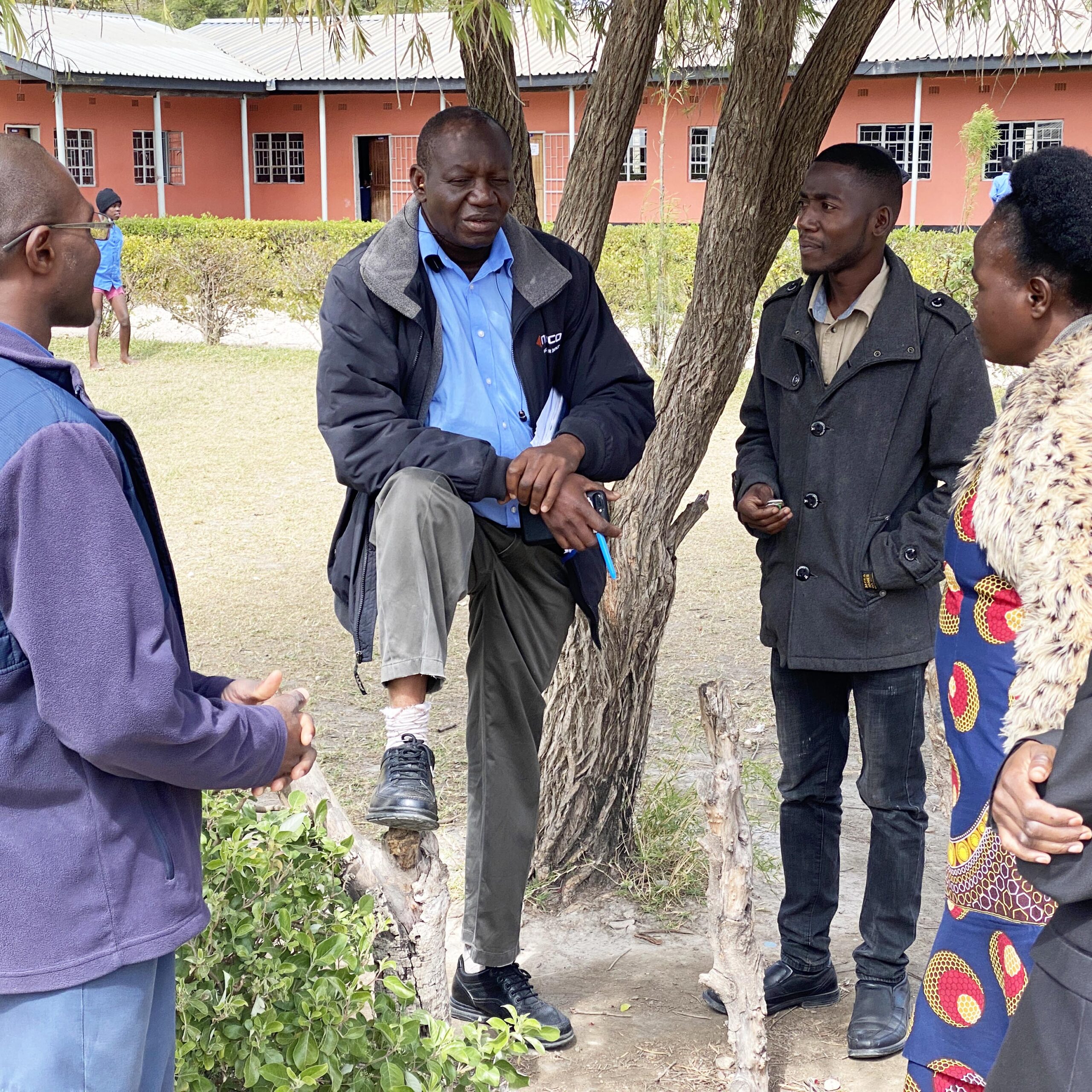 (Pictured: Kennedy having an impromptu meeting with African Vision of Hope teachers and staff.)
Today, he is the Zambian Program Director. Kennedy believes his life's challenges have prepared him for this calling, teaching him perseverance. As a person who once suffered and lacked life's most basic needs, he is able to identify children in similar situations and that is what drives him. He knows his job helps ensure children's lives are impacted positively so they can do greater things in their lives.
When we asked why he is passionate and loves his job, he answered: "It is not about loving the job but loving the ministry and seeing lives being changed ad transformed. It makes me excited and has given me a passion to offer my best. I count it a blessing for God to have brought me into this ministry."
The African Vision of Hope team in Zambia is over 130 staff members strong. This group of team members, led by Kennedy, have boots on the ground every day, working tirelessly to rescue children and find solutions to their country's greatest setbacks. They are transforming their country from within, and their impact is being felt through generations. This is only possible with your support.
[button style="btn-primary btn-lg" type="link" target="false" title="give now" link="/giving/give/" linkrel=""]