My name is Milton. I am 18 years old and the second born in a family of five children. My parents are not able to find work so they depend on a small garden to feed our family. I grew up in a small rural village.
Life in the village is difficult and much different from city life. When I was a boy, all I could think about was to get a part time job. I herded cattle and was paid with clothes or food instead of money since my parents could not afford to buy those things for me. I did not have any chance to be in school growing up because there were no primary schools in the village.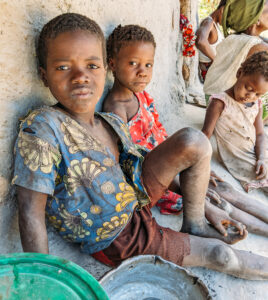 My parents agreed for me to live with my auntie so I could attend school in the capital city of Lusaka. In 2011, I started grade one at a primary school and went through grade seven. When I was ready to move on to grade eight, my auntie could no longer afford my education. I had to stay back while I watched my friends enrolling for school and it hurt me. 
I came to know about African Vision of Hope through one of my neighborhood friends. He was schooling at African Vision of Hope and told me the organization helps children living in poverty by providing a free education. I enrolled and was behind a term, so my teachers and friends helped me catch up. I passed all my exams and now I am in my last grade getting ready to graduate.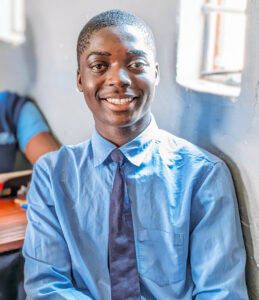 African Vision of Hope has done a lot in my life and I have learned a lot. I was given HOPE at school. Growing up in a poor family, I thought I would never finish my education, but African Vision of Hope has made it possible. Through the seminary students and school campus pastors, I have learned God's Word. I know He sent His Son Jesus to come and die for my sins so that I may have eternal life. I have received Jesus Christ as my Lord and personal Savior. I now know what God's love is and I have experienced it.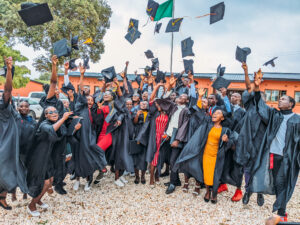 Graduation to me means everything has changed and I am now beginning a new chapter of my life. I am looking forward to college so I can study Computer Engineering. My biggest hope and dream is to help my family out of poverty. Thank you African Vision of Hope for the good quality education since grade eight up until now. I appreciate your support, love, and care you have shown me. Without you, I would be an uneducated child, so thank you for making a difference in my life. May the good Lord continue to bless you.