Norbert comes from a family in constant financial crisis. His mother has worked on the same farm since he was a child. His father died when he was three years old. He is the oldest of 7. Norbert and his mother and siblings were chased from their home by his deceased father's family. His mother re-married a man who does not consider Norbert a part of his family. "My step father is a man of no concern towards me or my education. He says if he could not go to school himself, he should not have to pay for someone else's child to go."
African Vision of Hope's Nurse, Nurse Clementina, found Norbert living in the streets. Clementina said he looked like an old man, emaciated and bent over. It was unknown to her that he was only in his teens, his back bent in a hunch because he was infected with Tuberculosis of the spine. Clementina asked Norbert when he had eaten last, and he responded "I can't remember." She took him in, nursed him back to health, and enrolled him in African Vision of Hope School.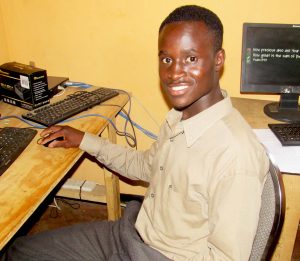 Norbert completed high school at African Vision of Hope School in Kabulonga in 2013, but this accomplishment was not met with celebration. He did not pass a few of his exams needed to graduate and could not pay to re-take them. It took him 2 years to save up enough money to take the exams a second time and try again. When Norbert received his test results he noticed that one of the subject's results was missing. It was either illegally sold to another student or it was lost. This set Norbert back even further. He worked and saved and was finally able to take the test once more and received his results.
Once he finally had his high school diploma he started applying to colleges. Norbert's mother wrote to African Vision of Hope begging for help. "I humbly ask you to help send my son to college. I want him to have a better life than the one I can give him." Norbert wrote a letter to African Vision of Hope as well, and in his letter he states "I have worked all my life pushing to get something out of my hard work. My only hope is the help that African Vision of Hope can give me. Any help that I might receive will be highly appreciated not just to me but to my entire family, especially my mom."
Norbert was accepted into the African Vision of Hope college scholarship program. He is attending college and is pursuing a teaching degree. Thanks to your donations towards college scholarships, he is able to become the first in his family to go to college. Now he has the opportunity to use his God-given skills and talents to alter his – and his family's- future.
You have helped them complete their high school education, now we have the opportunity to help them finish their journey. There is a waiting list of students longing for the opportunity to pursue higher education just like Norbert.
[button style="btn-primary btn-lg" type="link" target="false" title="support college students" link="/higher-education/" linkrel=""]