On March 22nd, the Concert for Hope will be taking place at Westminster Christian Academy in St. Louis, MO. One reason to get excited about this concert is the special guest who will be traveling all the way from Zambia to join us!
David Mwanza, African Vision of Hope graduate and sponsored medical student, will be performing at the concert. We are so excited to have David here to share his story and his beautiful voice with us all. Here is a little introduction of David, from David himself.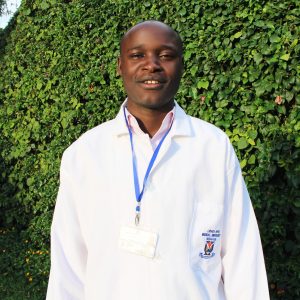 "I was born in 1995 into a family of eleven, with seven sisters and one brother. I am the youngest in the family. Neither of my parents ever went to school, and both are old and do not work. In my family, I never had anyone to sponsor me to school.
I joined African Vision of Hope school in 2006. Before I joined, I would get chased from school because my parents were unable to pay for my school fees. The moment I became a student at African Vision of Hope, my story changed. I gained back the hope that I had lost. I graduated in 2013 and am now in my 4th year of medical school studying Medicine and Surgery.
My future goals are to save people's lives and to help the needy, just like African Vision of Hope has done for me. I want to help the poor, widows, street kids, and also sponsor other children to school. Looking at the status of our country, there are few people who have the knowledge of medicine. There is a shortage of doctors in many of our hospitals. This has made me develop a desire to study medicine so I can help others.
In my free time I love to sing in acapella groups and play the piano. I serve as the music director for my church's praise team. I thank God for helping me achieve my dreams through African Vision of Hope. This will always be my greatest testimony."
Come meet David and hear him yourself at the Concert for Hope. Get your tickets before it's too late!
[button style="btn-primary btn-lg" type="link" target="false" title="Buy your tickets today" link="/giving/concert-for-hope/" linkrel=""]