When Evelyn was sixteen years old, her grandmother gave her an ultimatum: marry an elderly man in exchange for money, or get kicked out of the house. This was not Evelyn's dream; her dream was to go to school. No one in her family had ever graduated high school but she was determined to break that trend. How could she escape her desperate situation?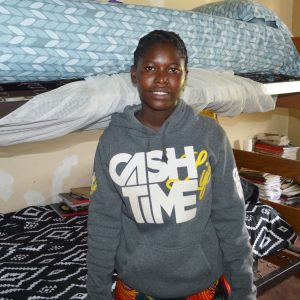 Evelyn and her six siblings are single orphans, meaning their father has died but their mother is still living. When her father passed, she went to live with her grandmother and was made to work in other people's fields for money. Evelyn's grandmother would verbally abuse her and refuse to send her to school. That is when she began the search for Evelyn's husband. In Zambia, girls as young as 14 are sold into marriage in exchange for livestock or money. Their families use this money to survive, and girls are seen as commodities instead of human beings.
Thankfully, Evelyn's luck changed when she heard about a free school in her village called African Vision of Hope School in Chongwe. After much begging and convincing, her grandmother let her start school, but it was a long way from her house and she had no transportation to get there. So, Evelyn began staying with her two oldest brothers and 60 other kids in a boarding house of their own making. They rented this house by working odd jobs after school, and many times their only meal each day was the lunch they received at school. "I was sleeping on a mat on the floor, I was walking an hour and a half to school, and I was always hungry, but all I wanted was an education, so it was worth it," remembers Evelyn. The Head Teacher at Chongwe heard about these children's hardships and would give them food to take home. He even talked to fellow teachers about what they could do to help these students, and that is when Evelyn was given a way out.
"When they heard our story, they offered my brothers and I a place at the boarding house at African Vision of Hope School in Kabulonga. I thank God every day for the care and love I have received at my new home. I never received this from my family, but now I have met new friends that encourage me to work hard and be more in life, and we have Bible studies that help me grow more in my knowledge of God."
Evelyn and 19 of her fellow boarders have been moved to the House of Hope and are loving this new home. "We have received so many wonderful things like new bedding and shelves for our rooms. It is so quiet and peaceful in the House, we can concentrate on our studies and have so much space. I never dreamed my life would look like this. I have so much hope and joy."
You cancelled Evelyn's wedding and saved her from a very dark future. Now it's time to open the doors for more girls just like Evelyn who are just days away from being sold into the worst kind of slavery. We have room for 100 more girls in the House of Hope home, but those spaces cannot be filled until the current girls are taken care of. Will you adopt the care of a girl in the House of Hope today?
[button style="btn-primary btn-lg" type="link" target="false" title="rescue girls today" link="/giving/house-of-hope-sponsorship/" linkrel=""]