Patricia stands with her mother and younger siblings in front of their mud-brick home. All seven of her family members live in this one-room hut.
You are educating children all across Zambia. African Vision of Hope School in Kasama, Zambia is a 12-hour drive from our main office in Lusaka. The road leading there is mostly one lane  and one of the most dangerous roads to travel in the country. Last month, the Child Sponsorship Team made the long journey to Kasama and touched base with teachers and students on what is happening at school and what challenges they are facing as a school and as individuals. One of the students they met was Patricia. Hear from Patricia herself what going to school means to her.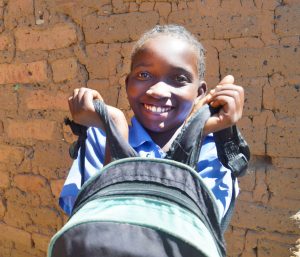 "My name is Patricia and I am in grade 5 at African Vision of Hope School in Kasama. There are seven people in my family, and we live with our parents. We are lucky because many of my classmates do not have both of their parents still living.
My father works as a bricklayer and my mother stays home to take care of my siblings and I. Sometimes there is not enough work for dad and they struggle to feed all of us. Life is hard in my village as most people here are very poor. That is why I love going to school. It helps me escape the hardships of my home.
I love my school very much because it is giving me a free education, food every day, and a chance for me to know the Lord. It is also close to my home, so I do not have to walk very far to class. Two of my brothers also go to school with me, they are in grade seven and preschool. The teachers at my school are very smart and love to teach. I love my friends at school because they encourage me to learn more about God and study hard. Three of my siblings are still too young to go to school, but I know that they can become something someday because they will have the opportunity to go to school just like me." 
Patricia has hope because of you! Your support is providing her, and the 3,000 students just like her in African Vision of Hope's 5 schools, the chance to be educated and grow up to be future leaders, teachers, preachers, scientists, surgeons and more. Without you, Patricia would not be in school. You have released her parent's burden and are lifting their family out of extreme poverty! 
Would you like to become Patricia's sponsor? She could use your encouragement to stay in school and pursue her dreams! Sponsor her HERE.