These girls, standing in the House of Hope, anxiously await the day when they will be able to call it "home".
Life for a teenage girl in Zambia is full of constant uncertainty and worry. The highest rates of child marriage are in sub-Saharan Africa, where many girls are forced and sold into marriage by their parents and are wed to men more than twice their age. Being in school and having a sponsor is instrumental in combating this situation.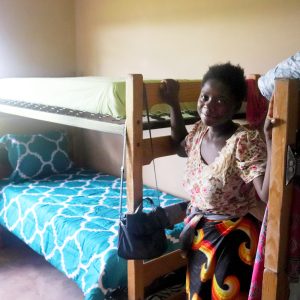 When young girls do not have access to an education, they have very few employment options, possibly resorting to selling their bodies to provide for themselves and their families. Education means everything to young girls in poverty.
On March 1st, girls like Abigail and 17 of her friends, pictured above in the House of Hope, will be given a home where they can live without fear of starvation, abuse, and exploitation. They have futures and a family. The House of Hope has room for 120 girls, and we would love to see every single bed filled. But, in order for that to happen, the current boarders need to be sponsored.
For as low as $25/month or as much as $900/month, you can transform the lives of these young women.
Your monthly gift will provide an ongoing home for a girl desperately in need of a safe home, warm bed, clean clothes, shoes, nutritious food, medical care, spiritual mentoring, and most importantly, education. You can choose to sponsor the care of a single girl, the care of a room of girls, or even SHARE the care by providing a partial monthly sponsorship. Your monthly support will transform the lives of these girls.
[button style="btn-primary btn-lg" type="link" target="false" title="Give to the house of hope" link="/giving/house-of-hope-sponsorship/ linkrel=""]