Yes, that is a baby on a scale hanging from a tree. Keep reading to learn why!
Last week, the Child Sponsorship and Enrollment Team at African Vision of Hope's Zambian office traveled to our school in Kasama, Zambia. The purpose of this trip was to gather updates on children who have Child Sponsors and also check in on how the students and school are doing.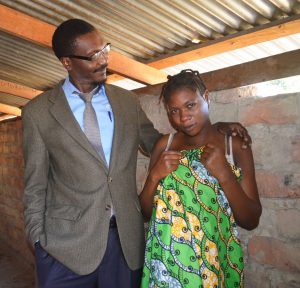 While in Kasama, the team learned about some of the struggles the students from this school are facing. Not only are they experiencing drought, famine, and an increase in food prices, but their village is plagued by early pregnancy and child mortality. The staff met Memory, a 9th grade student at our Kasama school who is pregnant. She had to drop out of school due to her pregnancy, as have many girls her age or younger who live in her village. Sub-Saharan countries like Zambia struggle to keep girls enrolled in school, early pregnancy being one of the main reasons.
"Many girls in Memory's village are at risk of getting pregnant due to the poverty levels in their community. More than 70% of the village members have no formal education and do odd jobs to survive. Other factors effecting the community are lack of knowledge about abstinence, lack of parenting and passing down of knowledge, and the high number of orphans in the village." – Misheck, Child Enrollment Team member
Even in her situation, Memory still has hope. The team met with her and encouraged her to come back to school once the baby is born. They also encouraged her family to continue showing Memory the importance of finishing school and not getting married before she completes her education. With the opportunity to go back to school, Memory avoids becoming just another statistic and work towards tipping the scales of educational equality so they are even. The more education Memory has, the healthier her baby will be.
The sponsorship team also came across a village clinic being held under a tree. The medical clinic was specifically for children under 5 years old, because this is the demographic with the highest mortality rate. The children are weighed and checked for ailments such as malnutrition and worms. This is the only medical care many of these children will ever have access to, and their mothers are so grateful for even the simplest care. This will also be a huge blessing for Memory.
When you sponsor an African Vision of Hope student, you can encourage them to stay in school and listen to the advice of their teachers and mentors. Girls like Memory need to hear that they are loved and valued and belong in a classroom. Will you be the voice that a child across the globe needs to hear?
[button style="btn-primary btn-lg" type="link" target="false" title="sponsor a child today" link="/child-sponsorship/" linkrel=""]