On March 1st, 20 girls heard the words "welcome home" as the Girls House of Hope Home celebrated its Grand Opening. Above, Judi Bertels, African Vision of Hope's President/CEO, and her husband, Bob, are pictured with all of the Home's new residents. Every single one of these girls has a story. The details of their stories vary, but at their core the themes are the same: each of these girls were in desperate situations and in need of rescue. You provided their way out with the House of Hope!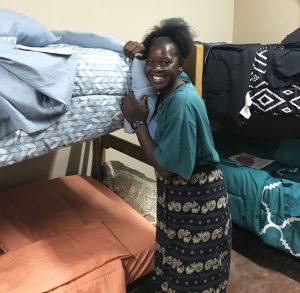 Tabu, above, loves her room at the House of Hope! All of the bed linens, comforters, pillows, etc. were donated through an Amazon wish list and shipped to Zambia. When they saw their beds for the first time, the girls wept because many of them have never had their own bed before. They also asked what the pillows were for, because they have never used one.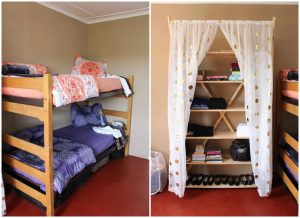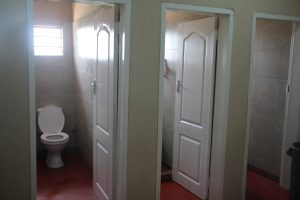 The House of Hope has clean and efficient sanitation facilities. The building also has running water and electricity, which is an enormous luxury in Zambia. The girls no longer have to walk to fetch water from a well to drink, bathe, and cook. They also have showers and indoor toilets, another luxury not often found in Zambia.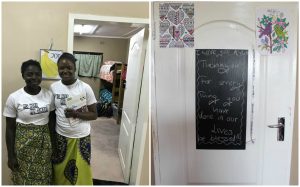 The sign on the outside of this room reads "I love you AVOH. Thank you for everything you have done in our lives. Be blessed!" Each bedroom in the House of Hope has been given a name that correlates with a Fruit of the Spirit found in Galatians 5:22-23. These girls, pictured above, stay in the "Joy" room. Every girl living in the House of Hope is given a safe place to stay, a warm bed, clean clothes, shoes, nutritious food, medical care, spiritual mentoring, and most importantly, education.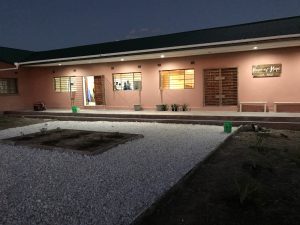 The House of Hope is surrounded by a gated fence and is protected 24/7 by a guard. They also have a "House Mom" that lives with them, cooks with them, watches over them, and mentors them.
The House of Hope has many years of rescuing ahead. It has enough rooms to house 100 girls at a time. Can you imagine how many lives will be impacted in the years to come? As girls graduate and leave the House of Hope, they are empowered and prepared to be successful members of society. Thank you to everyone who has donated items, volunteered time to load the shipping container that brought the items to Zambia, and gone to Zambia to assemble and prepare everything in the House of Hope.
Do you want to be part of this journey?
Adopt the care of a girl in the House of Hope today.
[button style="btn-primary btn-lg" type="link" target="false" title="take action" link="/giving/the-girls-house-of-hope/" linkrel=""]