For Edith Sims, there is no such thing as retirement. Even at 103 years old she keeps busy. In fact, over the last few years she has sewn over 500 book bags for African Vision of Hope students in Zambia.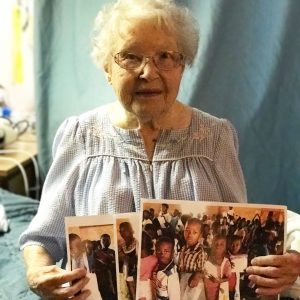 She has had a lot of positions other than African Vision of Hope volunteer, ranging from shoe maker to Rosie the Riveter to professor. Edith was born on September 25th 1914, and says with a smile "'Course I don't remember that, but you can tell what my parents were doing the Christmas before!" She grew up in Festus, Missouri. When the war started, she became a Rosie the Riveter. She recalls "It takes two people to rivet. One is on the inside with what you call a 'bucker' and the other drills the rivet. We made airplanes for Boeing. That was in 1941." When it was discovered that Edith could read blueprints, as she puts it, "That was the end of my riveting. Not everybody can read blueprints." Her husband was a member of the coast guard and was in a submarine during the war, and on Pearl Harbor. She smiles as she remembers "He was out there chasing submarines, and they were chasing him back!"
Edith learned to sew from an aunt when she was 8 years old. She loves to sew, and when asked how many book bags she made for the kids she replies, "It felt like thousands. They go quick, you cut some and then you sew and then you cut some more and sew some more. I didn't sew my fingers, which was lucky." We showed her pictures of the children receiving the bags she lovingly sewed, and her response was "Well what do ya' know." We asked her how it felt seeing the book bags being used, and she said it felt good because she knows these kids are getting an education. "These poor kids…they look happy. They have practically nothing." She knows that these bags will become a prized possession for the kids in African Vision of Hope schools, because they will be able to carry their books back and forth to school. Plus, This bag may be one of only a few possessions that is actually "theirs."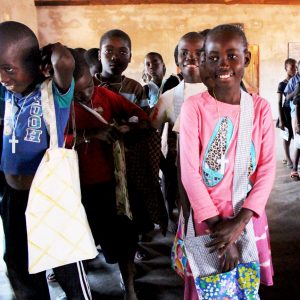 Edith knows the importance of education first-hand. If it weren't for her education, she would not have been able to read blueprints. From there she became a professor, teaching the soldiers who came home from war. When she gazes at the photos of kids wearing her bags she states, "Just think, they are the next generation that is going to be running this world. If you don't educate them, it's going to be bad. If we don't educate them, they will be educating others the wrong way."  Knowing that her book bags will aid in educating children thrills her. We told her that she is such a wise woman, and to that she says "When you get to be 103, you've had some experience and training."
Edith certainly knows a thing or two about a thing or two. She says the secret to a long and happy life is to "Reach out and touch. No man is an island. Mix with people and become part of their family." The world needs more people like Edith.
[button style="btn-primary btn-lg" type="link" target="false" title="Become a volunteer like Edith" link="/get-involved/" linkrel=""]
Watch her full story HERE.