Today is Simon's first day of school. Three years ago, Simon was clinging to life, barely able to sit up on his own because of his debilitating heart condition. His parents never could have dreamed that he would be the energetic first grader he is today.
Last year, 22 lifesaving heart surgeries were performed on children that would not have survived past childhood due to heart conditions. This year, 29 more surgeries will be performed through a partnership with Gift of Life International. Simon is the very first child to receive heart surgery. Here is his story written in letters from his father.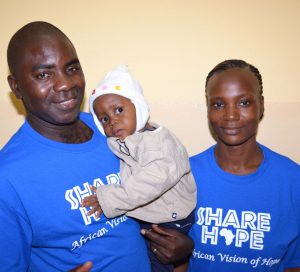 "Dear African Vision of Hope Family,

Children are a special gift God gives to the family. Like every parent, when God blessed us with Simon we looked forward to having a great time with him all the days of our lives and see him grow and become an adult. Unfortunately, we did not know that our son had a condition that could have ended his life at any time and prevent him from living past childhood.

The doctors at the hospital told us the baby could die any time if nothing was done to correct the situation in a quickest possible time. It is during this time that we began to feel as though God had left us alone. Though, full of doubts in our hearts of what will happen to our son, we still continued to trust and asking God for his intervention. We heard about African Vision of Hope and Gift of Life sending children to get surgery and how they returned home healed. We thought 'could this happen to our son too?' His condition kept deteriorating and we felt hopeless. "
After African Vision of Hope and Gift of Life International stepped in, his father's letters sung a different tune.
"Dear African Vision of Hope Family,

It is with great love and appreciation that we want to report on Simon's progress.  Since his surgery in February he has been growing very fast. He is now doubled in size and will soon be like any other 2-year-old.  We know that we have been granted this gift so that the door will be open for other children who need the same surgery and are waiting for someone to rescue them.  As long as we both live this perfect gift will never escape our hearts and minds."
Because of your generosity, Simon can run, jump, and play like all of his friends. He has a future, and so do the other 50 children who have/will receive heart surgeries.
[button style="btn-primary btn-lg" type="link" target="false" title="Give so more broken hearts can be healed" link="/give-now/" linkrel=""]