Above: African Vision of Hope board member Bob Bertels and Rotary Club representatives from around the world celebrate an exciting partnership taking place in Zambia. These men and women truly emulate Rotary's motto of "service above self".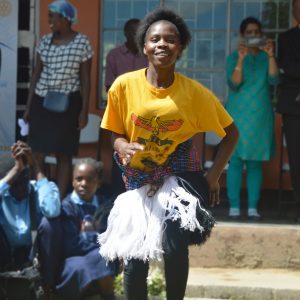 A partnership between Rotary International and African Vision of Hope is providing hygiene, sanitation, and new desks for students across the globe in Zambia.
On March 7th, a handover ceremony took place to celebrate the completion of brand new toilet and shower facilities at African Vision of Hope School in Kabulonga. This school serves 850 students each day. These children and their teachers formally shared two toilets – one for the boys and one for the girls. The brand new facilities will provide better hygiene and health safety for all students and staff, helping prevent the spread of disease and creating a more conducive environment for learning. The partnership also provided hygiene and sanitation training for all students, provided by the African Vision of Hope school nurse. Additionally, it furnished water tanks and plumbing to the Girls House of Hope Home and 150 new desks to students who had previously been learning while sitting on the ground or sharing a desk.
Thank you, Rotary, for your dedication to keeping children healthy, educated, and safe from disease. Your partnership is transforming lives from poverty to possibility!