Does sponsorship really make a difference in a child's life?
African Vision of Hope has 6 schools across Zambia with a total of 3,250 students in attendance. Of these pupils, only 910 are sponsored.  We asked Joshua, an African Vision of Hope student: what difference does sponsorship make in the life of a Zambian student?
Does sponsorship make a difference?
"Sponsorship makes a very big difference in the life of a student. Children who are sponsored feel that they are loved and cared for. They feel special when someone writes to them. When unsponsored children see their friends receiving letters they feel sad and left out. They would love to have a sponsor who cares about them, too."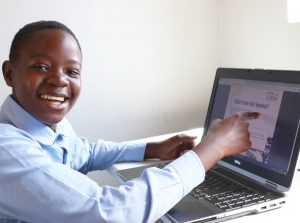 Tell us about school in Zambia.
"There are not enough classrooms for every child who wants to learn. So many kids really want to go to school, but there are not enough spots open for them or they cannot pay. A lot of kids are turned away. Girls have the most trouble staying in school. Most don't make it to high school because they have to do their school work on top of all of their home duties. There is no time for homework and studying when you are trying to cook and fetch water and take care of your family. Having a sponsor would encourage them to stay in school and pursue their goals."
What would you like to tell us about child sponsorship?
"Knowing that your school fees are paid for takes a big burden off of a Zambian child's shoulders. They can be confident that they will be able to have an education and a future. Sponsorship gives a child hope. They know that someone cares enough about them that they would pay for them to go to school and take the time to write them. Sponsorship also encourages children to stay in school. It keeps them going and striving to succeed."
What should I write to my sponsored child?
"You can write about anything in a letter to your child and they will treasure it. Just write about life and your family and what you like to do. I think that just receiving the letter and hearing from their sponsor makes a difference. Tell your sponsored child what they mean to you. Tell them you care about them. My sponsor encourages me to stay in school and reminds me how much I am loved. When I begin to lose hope, I remember that they believe in me and I am encouraged to keep going. If they believe in me, I know I can accomplish anything."
Now that all African Vision of Hope students have returned back to school, your sponsored child would love to hear from you! If you sponsor a child, writing your letter is easier than ever with our new portal. Sign up HERE to write an e-letter today! Coming winter 2020, students who receive e-letters will be able to respond to these letters via the computer.
100% of every child sponsorship goes directly towards educating children like Joshua. Each child has only one sponsor, ensuring a one-on-one relationship. Sponsorship provides them with clean water, medical care, school supplies, and Christ-centered education. Your investment changes their life and enables them to fulfill the purpose that God has prepared for them.
Would you prayerfully consider sponsoring a child today?
[button style="btn-primary btn-lg" type="link" target="false" title="Yes, I will sponsor a child!" link="/donation-category/sponsorship/child-sponsorship/" linkrel=""]