You're looking at the next generation of Zambian engineers!
Last week, Robotics Teams from three African Vision of Hope schools came together for a 3-day camp and friendly robot-building competition using VEX technology.  These students were chosen to be in the club based on several criteria, including math and science scores. The Robotics Team was established to further our students' education in these subjects.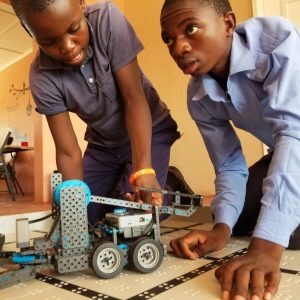 The camp was hosted at the Girls House of Hope by mission team members.  Club members learned how to assemble and maneuver these machines, giving them practical knowledge technology computer programming. Click on the video below to see the students and their robots in action.
There are not enough scientists in Africa, leading to a lack of development opportunities, innovation, and proper healthcare. Investing in math and science education is one step towards creating a sustainable future for Zambia; a future that provides economic security, good careers, and contributes to Africa's social and economic development. Thank you to mission team members Mark and Luke for making this incredible program possible.
These students will go into Zambia's workplace as diverse candidates who are ahead of the curve and ready to become leaders in their fields. Your giving makes programs like this possible!
[button style="btn-primary btn-lg" type="link" target="false" title="Give now" link="/giving/give/" linkrel=""]