Pictured: Michael, Esther, and Fridah's first school pictures at African Vision of Hope School in Kabulonga. The lives of these three cousins, and their families, have been transformed through education.
Like many Zambians, twenty-three-year-old Esther grew up in a home shared by many family members – both immediate and extended. Because they have so many people under their care, Esther's family lacked many things, including education. As a child, Esther longed to create a better future for everyone around her but education was out of reach. That is until her cousin Michael was accepted into an African Vision of Hope School in 2011 and the door to education was opened.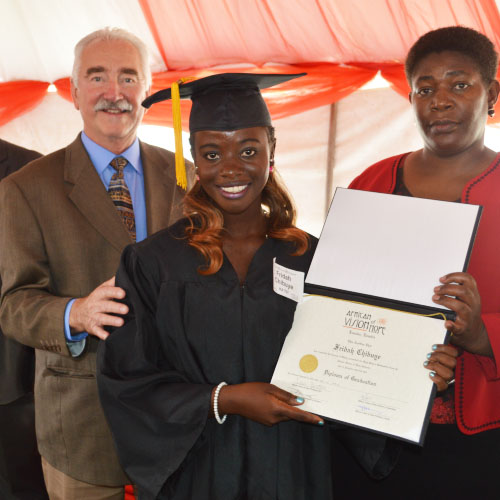 "We could not believe that there was such a thing as a free school. It gave us so much hope for a better future. We prayed that they would accept me and my sister Fridah, and God answered our prayers." – Esther
Esther and her sister, Fridah were accepted into school and given a place in the boarding house. Esther's hope was renewed knowing someday she would do great things because she was educated.
(Pictured, Fridah graduating high school in 2017)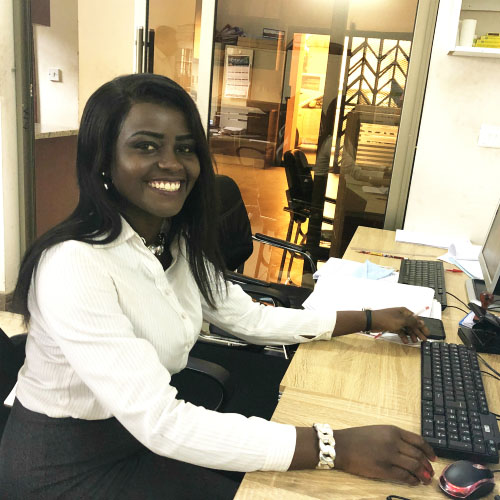 "It meant so much to me to be able to sit in a clean classroom, sleep in a warm bed, wear real shoes, receive three meals every day, and feel love from my teachers. I felt energized to help other people in the future the same way African Vision of Hope helped me and my family."
Esther graduated from African Vision of Hope and began studying Hospitality Management with a scholarship you helped provide. She used her degree to work in prestigious hotels around Zambia and Zimbabwe, and now she is working as a Zambia Revenue Authority Specialist. "I am now able to help with whatever is needed at home and help my siblings receive an education. I have seen the amazing impact of education on my life and on my family."
(Pictured, Esther working as a Zambia Revenue Authority Specialist)
Michael, Esther's cousin, graduated college with a degree in Agricultural Business Management and her younger sister, Fridah, is graduating with a Bachelor of Accountancy next year. Both are African Vision of Hope scholarship recipients. Your giving has not only impacted this young man and women; it has transformed their family for generations to come.
(Pictured, Michael graduating college this year)
"You have blessed me, one person, and I will go on to impact the lives of many around me. Having the opportunity to be educated was a miracle. This school was an answer to prayer. This is just the beginning to a series of blessings that will go on for generations. Lives are being transformed and kids are being given back their futures. Thank you so much." – Esther
You were Esther's only hope of receiving an education. Through the end of the year, any and every gift will be doubled, up to $100,000. With your help, the $100,000 match can be unlocked, opening the doors to education for the "Esthers" who are waiting for their chance to be educated.
[button style="btn-primary btn-lg" type="link" target="false" title="Give now" link="/giving/matching/" linkrel=""]