This is Isaac.
Every day, Isaac sits on the side of the road, waiting for his friends to join him as they leave school. He eagerly waits to hear about what they have learned. Isaac, who is an orphan living in rural Zambia, is watching life pass him by.
At just 14 years old, Isaac has lost hope that he will ever be able to go to school. Last year, Isaac's father died, and his mother abandoned their family shortly after. Isaac's elderly grandmother looks after him and his siblings, but she is very frail. None of his siblings are educated and it is his dream to complete school so he can help rescue them. Every morning, Isaac goes in search of odd jobs that will help feed his family. Food is hard to come by, making life extremely hard. School is something Isaac desires so much, but his hopes and dreams were fading fast.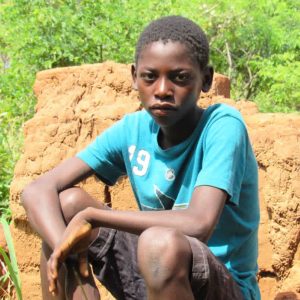 When we met Isaac, he was hiding in the bushes at our school in Chongwe, waiting for his friends to get out of class. Our Child Protection Officer, Phizwell, noticed him and asked for his story.
"I heard about African Vision of Hope School from a friend. They said it is a school for children like me. I tried asking neighbors to bring me to the school but no one would help me. My grandmother cannot manage to bring me, so I came alone, but I am too shy to approach the school office by myself. Every morning I walk to the campus with my friends, and every afternoon I come and walk home with them. That is when the Child Protection Officer found me and asked about my situation." –  Isaac
The Child Protection Officer is seeing to it that Isaac is enrolled at African Vision of Hope School in Chongwe. Soon, Isaac will be joyfully joining his friends in class instead of sitting on the outside looking in.
We can only open our doors to more children like Isaac with your help.
You can change that. With your immediate gift during our matching challenge, your donation is doubled, ensuring Isaac and children just like him are given a place in a classroom. You are the key to their future.  Together, we can help Isaac and more children who are waiting.
[button style="btn-primary btn-lg" type="link" target="false" title="Give now" link="/giving/matching/" linkrel=""]