Pictured: Moses,  his wife Audrey, and their family at the seminary campus in Lusaka.
One of the most effective methods in releasing children from extreme poverty is by working within the communities in which they live. Without building these relationships and walking their streets, we cannot know how to meet their needs. This is why we partner with local pastors and churches. It is our belief that God uses these men, women, and their congregations to rescue His people.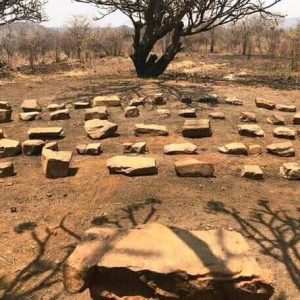 As a child, Moses's nickname was always "abusa" (pastor) because of his clear gift in ministering to others. His mother recognized this gift and was always sharing the word of God with him.
After completing high school, Moses became a husband and father of two. A metal fabricator by trade, he was making a dependable living for his family and had no problems meeting their daily needs. Eventually, he felt the call to ministry, left his job, and is now in his second year of seminary on a scholarship through African Vision of Hope. His wife, Audrey, supported this calling but was concerned about how they would survive while he was in seminary and unable to work. Through his scholarship, a burden has been lifted. The other seminary wives have been a great source of encouragement and strength for Audrey and she has seen her own faith grow.
Moses desires to serve the Lord wherever it is required, whether it be in the city, a village, or in the rural areas. The best way to empower pastors like Moses who are serving families living in extreme poverty is by equipping them with them the Biblical training they need through seminary scholarships. These scholarships are supporting pastors around the world who are sparking real change in their communities, and they are not possible without you.
"But seek first his kingdom and his righteousness, and all these things will be given to you as well. Therefore do not worry about tomorrow, for tomorrow will worry about itself. Each day has enough trouble of its own. – Matthew 6:33-34″
[button style="btn-primary btn-lg" type="link" target="false" title="give now" link="/giving/give/" linkrel=""]