Sydney does not like talking about his childhood because it makes him feel sad, but he wants to share his story so that you can know how much your support means to him.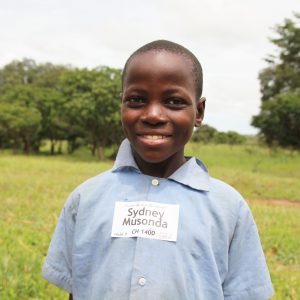 Sydney was born to a woman who, in her village, is considered "mad". She is mentally ill and was raped which is how Sydney came to be. It saddens him when he hears people make fun of his mother. When he was a year old his aunt and uncle became his guardians, and he has lived there ever since.
"Life is hard at home because my aunt shouts at me and makes fun of my mother. Sometimes I cry at night because they don't leave any food for me. My uncle is not home very often and I am afraid to tell him what I go through at home. One time, while he was gone, I was beaten severely. This is the first time I am telling anyone about this, but please don't tell them because they might beat me even worse." – Sydney

Thankfully, Sydney has hope that he can escape this situation. He has a safe place to go to school each day and has teachers who love and care for him. "I appreciate African Vision of Hope Christian School for giving an orphan like me a chance. I am so grateful for the opportunity to be in school and learn and have my main meal. It is how I survive."
If you want to help Sydney in a practical way, you can become his sponsor. As his sponsor, you can write him letters of encouragement and let him know just how much he is loved, valued, and cared for. Click the button below and enter Sydney's name and ID# CH1400.
[button style="btn-primary btn-lg" type="link" target="false" title="sponsor sydney" link="/give/sponsorship-renewal/" linkrel=""]