What do a future doctor, future public health specialist, and future teacher all have in common? They are all college students awarded scholarships from African Vision of Hope. They are also all members of the same family! Meet Grace, John and James, three siblings determined to change their family's future.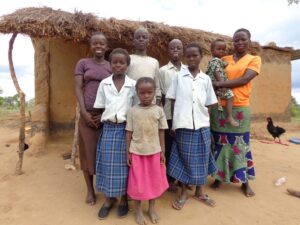 Grace grew up in a family of 8 children, all living in a single-roomed hut with a thatched roof. Her mom is a housewife with no job, she did not finish her education. Grace's father was present in the family's life until 2013, when he fell sick with a mental illness and started living far from the family. Growing up in the deep bush of Chongwe, Grace and her family were living in darkness. Many days were spent searching for food and walking barefoot for miles to find clean water. Grace and her siblings joined the African Vision of Hope campus in Chongwe when there was only one class. This class was under a tree. Each year as the student body grew and the students advanced, a new classroom block was built.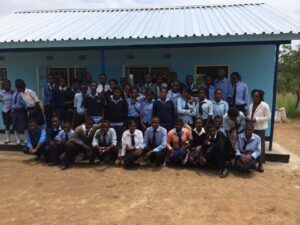 All three siblings experienced the full benefits of African Vision of Hope's Christ-centered education, feeding program, clean water, and family support. African Vision of Hope became a bright source of light in their family and the surrounding community. Grace, James, and John became the first in their family to not only graduate high school, but to attend college! Because of YOU, 65 scholarships were awarded in 2023. Grace, James and John are accomplishing more than they ever thought possible!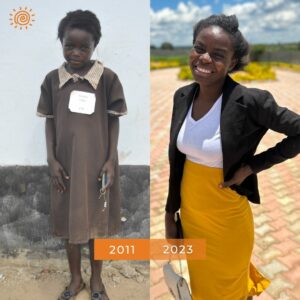 "I graduated at African Vision of Hope in 2021 and am now in university pursuing a Bachelor's in Public Health. I really want to say thank you for all of the love and support you have shown me, you have really changed my life. Without you, we could not have managed to have this life. " – Grace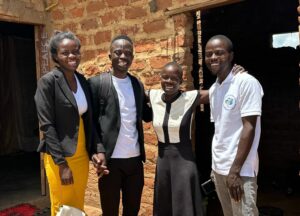 Children living in extreme poverty in Zambia think going to college is an unattainable dream. Recently, Grace, James and John visited their old school and shared encouragement with the younger students, who became filled with excitement and HOPE for their future. Each year we have a growing number of applicants for college scholarships. Your monthly gifts are vital to the number of the students awarded scholarships and making their dreams become a reality.